I have been running a poll to decide where to venture next…into pseudo-Pauline epistles of leadership in 1 & 2 Timothy and Titus known colloquially as the Pastoral Epistles. Or into the Petrine line of thought within 1& 2 Peter. These types of reflection are a bit of a comfort zone for me, as I have spent literally decades studying, teaching and preaching from the Hebrew Bible and Christian Testament. Yet in this time of renewal, it is also about re-asserting a daily practice. I haven't fully decided which of them I will open up with but thought I would share broad strokes upon where I would be going.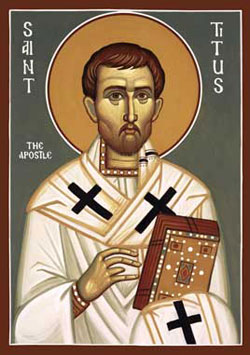 The Pastoral Epistles were written to young leaders coming into their own in Ephesus (Timothy) and Crete (Titus) respectively. They are seen as having been written at least 8 years after the Acts of the Apostles chapter 28, some will say 1 Timothy was written during Paul's first imprisonment circa 61 CE but the written dates could come as late as near the end of the First Century. Both Titus and Timothy had journeyed with Paul at different times in his ministry. The
authorship of the epistles comes into dispute because the church appears more highly structured than during Paul's era, but also there appears to be texts of misogyny which do not fit Paul's overall writings and teachings post-conversion. Yet it needs to be remembered that using a venerated teacher's name as a pseudonym was not an act of dishonesty, but rather esteem and honour. It is the writer showing a continuation of lineage within the wisdom tradition.
While the Petrine epistles of 1 & 2 Peter appear to have more authenticity of the author Peter (Simon-Peter, the one whom Jesus of Nazareth gave the keys of the kingdom to in Gospel of Matthew 16:19).  The Gospel of Matthew with this declaration dates from 85-90 CE; and 1 Peter is believed to have been penned by Peter around 60-64 CE as he was martyred under
Emperor Nero by being crucified upside down in 64 CE.  It is believed that Peter was part of the persecution visited upon the church after Nero burned down most of Rome, hence this letter came from Rome where Peter was serving as Bishop at
the time. Second Peter has a more gnosticish flare to it, and a heavy leaning on the Epistle of Jude.
Pauline and Petrine Christianity diverged on certain topics, before Constantine's unification movement in 325 CE. As Peter (or more accurately, his scribe) puts quill to parchment, he leans on the mysticism and prophecy of the Hebrew Bible. Pseudo-Paul (and Paul) will lean on the mystery of Christ. As Peter served as the Bishop of Rome, and noted in the Gospel of Matthew, that the keys to the kingdom were given to him by Jesus of Nazareth, it is how the concept of Apostolic Succession grew within the Vatican. Since as well, the Empire overlaid itself upon the Christianities to make Christendom, it became important for both seats of power to exist in one location. As the Roman Empire collapsed, the church empire would thrive still…yet monastics, mystics and Reformers would keep bringing out the beauty of the mosaic that is the Body of Christ.
As I have written about before, the early movement, like today's, was not a unified indoctrinated stance. It was a mosaic of beautiful Christianities. We have recently journeyed through James' Christianity, now these present some Pauline traits, and Petrine. We are in the season of Advent, something new is awaiting to be born into the darkness, a new light into the world. The journey to the new light, takes us through old shadows, and new insights as we pilgrimage to the Creche.
Over the next few weeks we will be looking into the wisdom words of these letters. Either in Apostle's Shuffle or Pastorally Yours…
What letters are coming to your mailbox…
Peter, an apostle of Jesus Christ,
To those who are elect exiles of the Dispersion in Pontus, Galatia, Cappadocia, Asia, and Bithynia, 2 according to the foreknowledge of God the Father, in the sanctification of the Spirit, for obedience to Jesus Christ and for sprinkling with his blood:
May grace and peace be multiplied to you.
-1 Peter 1:1-2 (English Standard Version)
 Simeon[a] Peter, a servant[b] and apostle of Jesus Christ,
To those who have obtained a faith of equal standing with ours by the righteousness of our God and Savior Jesus Christ:
2 May grace and peace be multiplied to you in the knowledge of God and of Jesus our Lord.
-2 Peter 1:1-2 (ESV)
Paul, an apostle of Christ Jesus by command of God our Savior and of Christ Jesus our hope,
2 To Timothy, my true child in the faith:
Grace, mercy, and peace from God the Father and Christ Jesus our Lord.
1 Timothy 1:1-2 (ESV)
Paul, an apostle of Christ Jesus by the will of God according to the promise of the life that is in Christ Jesus,
2 To Timothy, my beloved child:
Grace, mercy, and peace from God the Father and Christ Jesus our Lord.
2 Timothy 1:1-2 (ESV)
Paul, a servant[a] of God and an apostle of Jesus Christ, for the sake of the faith of God's elect and their knowledge of the truth, which accords with godliness, 2 in hope of eternal life, which God, who never lies, promised before the ages began[b] 3 and at the proper time manifested in his word[c] through the preaching with which I have been entrusted by the command of God our Savior;
4 To Titus, my true child in a common faith:
Grace and peace from God the Father and Christ Jesus our Savior.
-Titus 1:1-4 (ESV)