Okay this is a unique thing that keeps popping up in my brain. We have the tubi.tv app on our television, which shows older shows, with commercials, so it is a free streaming service. On this service, we stumbled across the show out of Jay & Silent Bob's Secret Stash owned by Kevin Smith– Comic Book Men. It is a fun show for one that grew up in geekdom such as myself. With the journey I have been on, it is also fun because it bringing back memories that had been literally shook out of my mind the last few years.
It has brought up great conversations around the ol' Hard Travelling heroes, Uhura when she came in for her own mego figure, Mego's in general, and the ones I would get from the Tops & Toys store discount bin in Sunridge Mall growing up (the era of the fuzz ball with googly eyes at Smitty's for kids). Also chatting about Spider-Man's wedding, Star Wars, The Avengers, Star Trek,  Munsters, Robin Hood, etc. Seeing the conversation around Golden Age comics, silver age comics, cos-play, Superman, Batman, JLA, Wonder Woman has tapped into some good memories. Even talking about the Death of Captain Marvel, where the hero died of cancer and it was the first graphic novel. I recollect the coolest graphic novel ever, Batman Digital Justice, which art work was completely done on a Mac Computer back in the day. This is back when computer's took harder floppy disc's so it was impressive. Seeing the Return of the Jedi Ewok tree house, and going, oh yeah those Prince of Thieves figures I have, they re-issued the tree house as a Robin Hood toy back then too.
Seeing the bat cycle, bat copter, KITT, and Batmobile reproductions were cool…and hey, Bionic Woman as well. Talking to my wife about the made for t.v. movies about Six Million Dollar Man, and Bionic Woman when I was a kid. Ah the t.v. movies of shows that had ended, but kept new adventures going (now those adventures only continue in comics).
But it does raise the question as to what is the Holy Grail of collecting for you? What is the one thing you wanted as a child, or had and no longer have. Contemplating it, as I look at my Adventures of Robin Hood (t.v. show) hat in the shadow box my parents got me, I do ponder there was 3 cool comics that literally dissolved in my ownership due to over reading:
3) The third, was picked up in a comic shop in the later 1980's, it was one I went to with my brother and Dad. It was a treasury edition, these things were huge like read on the coffee table huge. I can't remember the number, but it had 4 silver age adventures, how I met the Avengers (next series I would read would be the death of the Avengers). It had the first Vision, Black Panther cometh, the wedding of Wasp and Yellow Jacket, were three of them.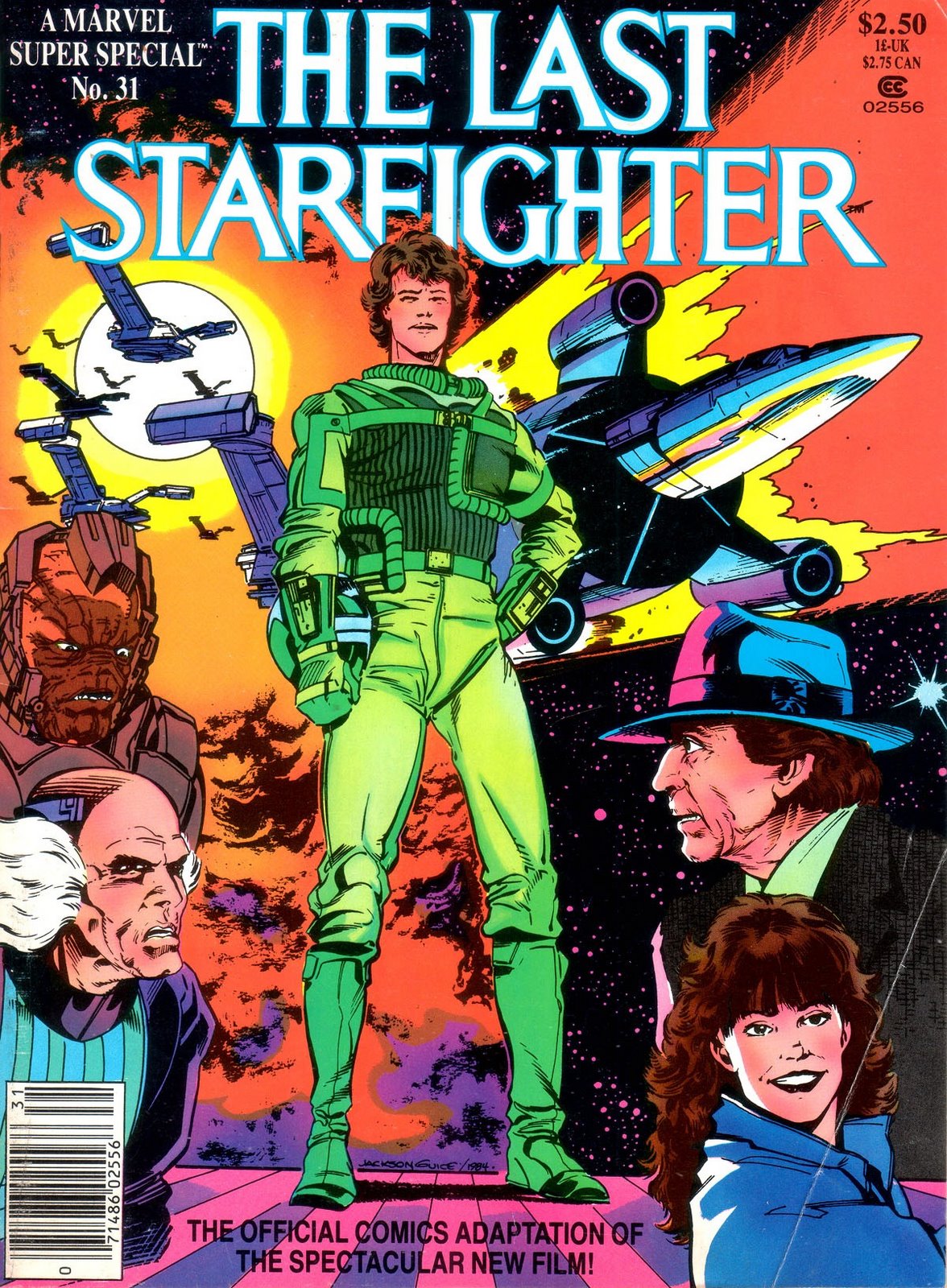 2) The Last Starfighter Comic Adaptation (Marvel). My Dad had come back from a service call at a Mac's store, and I think my brother got BMX plus, and he brought me this sci-fi comic. I read that sucker so much, that I wore the cover out that my brother and I used card stock and remade a cover for it.
Number One: Star Trek III: The Search for Spock (DC Comics) movie adaptation. It is quirky, that there was a comic adaptation to the Motion Picture when Marvel had the rights, and then DC got the rights and started with this adaptation (no Wrath of Khan). We were either out with my Nan & Granddad or visiting her at work, for I remember finding it on the comic spinner at WoodWard's Foods. It was the same place I got the Klingon figure that came with a rubber Targ from the movie as well. This was my fun, it was the show I was allowed to stay up late and watch on CBC, and now
they were in comics. Literally this comic dissolved on me mid-00's for how much it traveled with me, reading it, and yeah it came camping a few times.
Yeah they would be holy grails to stumble across again in travels, but they would also have to be quite frugally priced for what they are.
But why this ramble?
I think its always good to remember sometimes the good memories are just as important as working out the sludge of the past.
What would be the things from your childhood reading you would like again?