The Constitution Act 1982 does not speak of political parties, what it does promise is that at each level of governance Canadians are guaranteed peace, order and good governance. In fact it has been a transformational journey of our young Westminster Parliament compared to others, but we can still learn a lot from the "Mother" parliament of the UK, and other styled parliaments within the Commonwealth.
Australia Broadcasting Corporation poked fun at their system in the Fifth and Final season of Rake, that saw Cleaver Greene as a senator, and a rapid succession of Prime Ministers as the party caucus members that controlled kept cycling through to find the one that "worked".
Canada has been seen as one of the most "party" controlled parliaments, in fact, more likely, Leader and their circle controlled. Now you can rebut and say party members elect the leader, yes, but after that what happens? What if the person in the House or Legislature is not up to the job? Do elected members have an ability to make a good change? How is the first minister chosen? We have defaulted to the leader of the party with the most seats.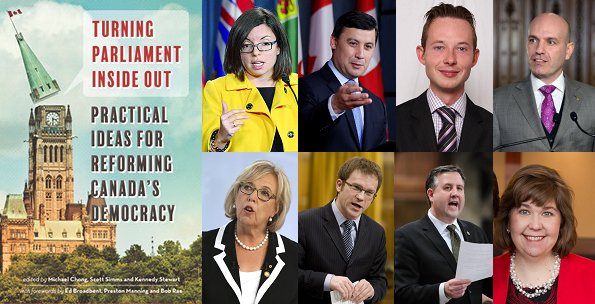 Are there ideas for changing things? A multi-party work came out in 2017 that shone some lights on change: Turning Parliament Inside Out: Practical Ideas for Reforming Canada's Democracy (Douglas & McIntyre); editors: Michael Chong, Scott Simms and Kennedy Stewart. The book was forwarded by Bob Rae, Ed Broadbent and Preston Manning. It has submissions from Members of Parliament across party lines (including Elizabeth May). For most politico it is nothing astonishing, it is a solid collection of 8 ways to give power back to elected representatives and decentralize from the leaders (and by extension PMO in governance) office. The eight essays are easy to follow, well laid out, and easy to discuss for those involved in the systems of politics and those not.
For EDA's; and parties I would encourage reading and discussion groups on the topics. For the non-partisan, get a few friends together to read and discuss the ideas. Even better is that it can be used as a starting point for discussions on what reforms (minor to major) that need to happen.
Such things as the "official party" seat number is just a function, not a rule. How are questions taken/answered in question period? How to get more people involved as candidates? And the list can go on.
What are your thoughts on Parliamentary/Legislature reform?
What steps can happen at the local level?
What can happen within parties?
The conversation of change that threatens power can be a scary one. Mostly because it comes down to the reality that moving forward there will be those accessing power, you were not allowed access to in the same moments of your journey. Yet for constitutional health of our nation, it is a conversation that leads to action that needs to happen.
And it simply begins with talking over a cup of coffee…like so many political movements that shaped our nation and world….
One cup. One conversation.