Star Trek is always at its best when posing tough questions to answer. Star Trek Deep Space Nine was a series that tackled politics, religion, bio-ethics, and war quite in your face. It wrestled with grieving, PTSD, mental health, and shell shock. It showed the stark contrasts needed for Truth and Reconciliation for the Bajoran people and their planet when the Cardassian occupation ended, and the Federation led by then Commander Benjamin Sisko came to the formerly Cardassian space station Terok Nor (renamed Deep Space Nine) to aid the healing and rebuilding process.
Sisko who would become the Emissary in the Bajoran religion. The wormhole that opened between the Alpha and Gamma Quadrants that the Bajoran people saw as the Celestial Temple in their faith, and the shape shifting aliens existing within as their Prophets. But I digress from my theological geek ways, to focus on another tale that is tackled well within Deep Space Nine.
David R. George III (2017) The Long Mirage brings forward an intriguing question. Especially with the rise of hate filled populism thinly veiled in religious language today in our world. The original DS( has been destroyed and replaced with a shiny new Federation station. A Bajoran Federation officer is now Captain, Ro Laren, and she is sweet on Quark (the Ferengi Ambassador, former barkeep on DS9 and hub of creative financial opportunities). They are searching for a missing patron of the station.  Kira Nerys, former first officer, is now on a spiritual quest that has taken her through time and space literally at the will of the Prophets. She has seen and learned things that may be a benefit to some factions in new Bajor.
What as a believer do you do with what you have learned? She is caught between the Federation rules of silence on time travel, her religions free will on disclosure, and those who want to use the faith of the people as a political tool.
Then Quark and Ro find Morn (the patron) and he is caught with illegal holograph technology…. Why?
Vic Fontaine.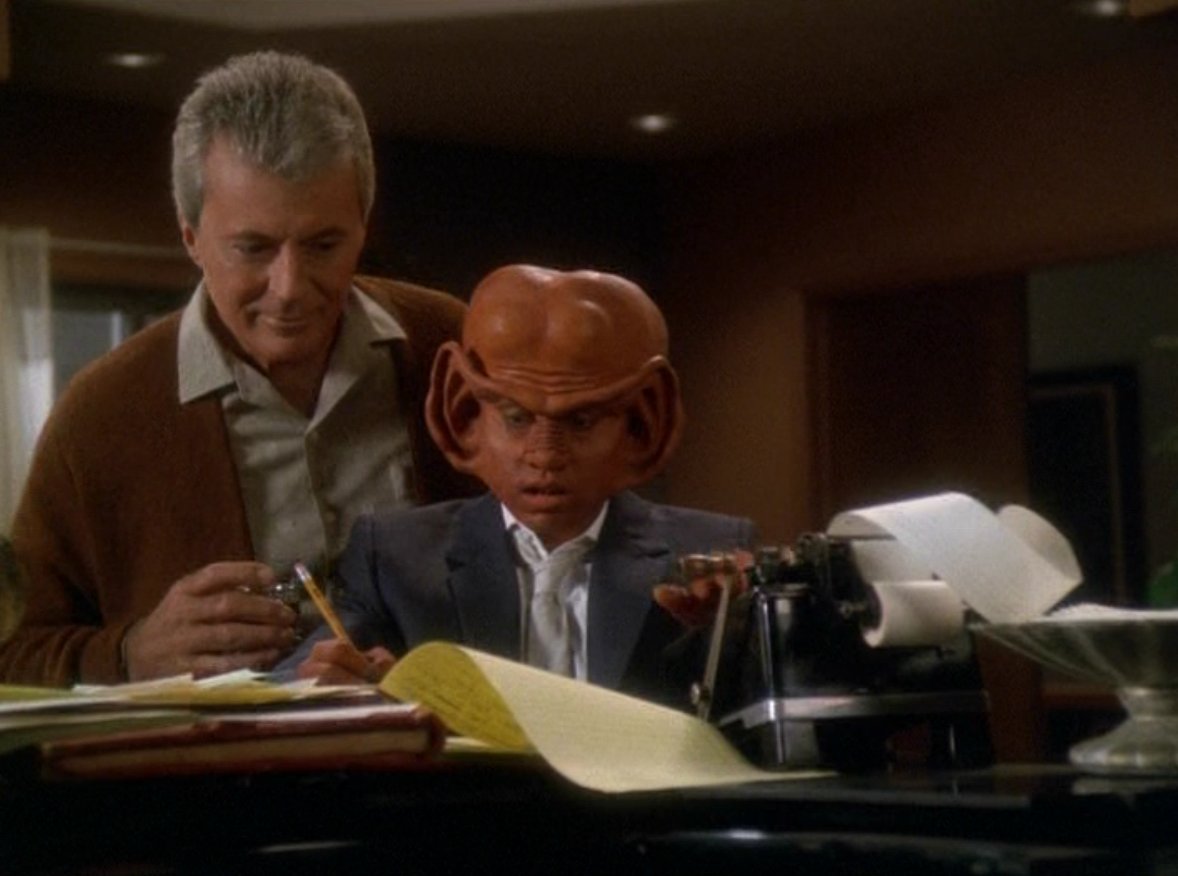 Trapped in a program buffer since the original station was destroyed. The holodeck program has had some glitches, and Easter Eggs that have put Fontaine's life at risk. So what you say, hit reset and carry on. Only Fontaine's 1940's era Vegas casino and act has been a place of community building, healing, and sanctuary for many on DS9. Quark's nephew, Nog, when as a cadet lost a leg in the Dominion War lost himself in the world and Fontaine became his therapist to work through the PTSD and Shell Shock.
The core question raised throughout the caper narrative,
is one as old as time,
What makes a friend? A member of the family?
And the core question, is Fontaine a sentient being (person) or not?
Enjoy the read, and wrestling through the questions.