It is a comic book based on a video game. Normally it would be a unique read, but it is not Archie's Sonic the Hedgehog or Mega Man we are talking about. It is Taylor, Raapack and Miller's Injustice: Gods Among us Year One. When boiled down to its core, it is the story of grief, loss and the corruption to the soul that happens when one cannot seek help. The first issue sets the stage (yes there are a few spoilers, but not many).
The Joker is bored with losing to Batman, and hatches an evil plan to see what happens when you rip the soul from a hero. Superman is gitty anxious, for Clark Kent has just woken up surprised to hear the heartbeat of his child inside his wife, Lois Lane. The Scarecrow murdered and his fear gas taken. Lois and Jimmy off to break a story. BANG! The Joker quips he has gotten Jimmy on his shoe. Lois kidnapped.
The scheme hatched.
Fear gas and Kryptonite leave Superman seeing the monstrous Doomsday about to rampage, as the Joker tells him Lois is dead, and did you know she was pregnant? In a rage he flies Doomsday into the atmosphere, too late for Batman to warn him it is not Doomsday, but Lois, still alive, and made a living deadman's switch to a nuke aimed at Metropolis.
What happens when Superman loses Clark Kent as Lois Lane and his city die?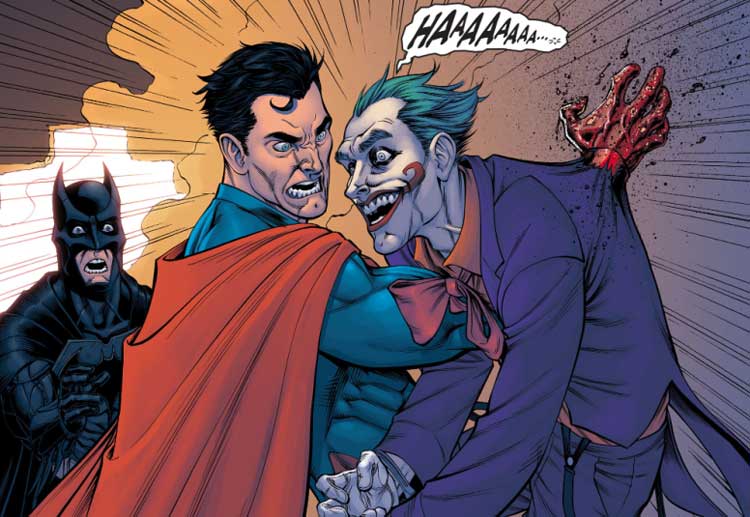 I miss Superman. I miss the guy who actually inspired people. The Superman who had time to help a kid who fell off a bike. Before he was changed. Before he gritted his teeth and looked angry all the time. Before he became all hard and dark because people supposedly, needed him to. I miss the City of Tomorrow and the Man of Yesterday.
-James, a boy who Superman fixed his bike B.L. (Before Lois died)
Grief can do many things to a person's being. Depression. Anxiety. Anger. Physical pain. To name but just a few. When lost in the anger and the grief, when someone is not able to see the path out for themselves, and those around them are unwilling to remove the veil from their own eyes. The eyes that just want to believe everything is hunky-dory…then grief is destructive. Within this story construct it leads Superman to work to create the world in his own ideal world of no crime or violence. Sounds great, but i completely removes free will, and is enforced.
Batman leads the resistance as he realizes that Superman has jumped the shark "Superman is no longer the man we knew."
But backing up, it is Catwoman and Martha Kent that get what is needed. Not more bloodshed, not removing control of the world, or breaking of the Batman. No, it is something far simpler, for this hurting hero:
Catwoman: is this what you're doing now? Killing criminals in sewers.
Superman: No! I wouldn't–I'm sorry. I didn't mean to scare you. I just want to talk.
Catwoman: So talk.
Superman: It's Batman.
Catwoman: What happened?
Superman: Nightwing…Nightwing died. He'll need someone.
Catwoman: You're supposed to be his best friend. Go talk to him.
Superman: I can't. He wouldn't–
Catwoman: Oh, you idiotic, stubborn, scared little boys.
Superman: Too much has happened.
Catwoman: That's crap! Batman would throw himself in front of a bullet and you would fight Doomsday to the death— and you'd both find that easier and less terrifying than trying to talk to your friend. It's maddening.
Yes, Selina Kyle, Catwoman is right. It can be maddening how a helper can find it so difficult to open up to another helper to…
HEAL.
How different would this story have turned out, if these two best friends, had chosen the good grief path?
Will you heal today?