Yes, you read that title right.. 2016 shifted populism in North America, but in our neighbours to the south with President Trump, and the opening of fresh (old not fully healed) wounds of prejudices, racism and anger. Populism at its base will funnel anger for support whether it falls on the left or right of the political spectrum (in the US 2016 primaries on the left populist vote was Bernie Sanders). It may create an atmosphere of voting out of fear to stop something or someone. Fear easily becomes anger, and the slope to hate for the opponents or groups for the rising populist sentiment that has filled the gap in the individual or community. This is not a conducive slope or ride for nations, or citizens to take anymore within our globalized world. It is also not healthy nor beneficial, in fact it increases anxieties and depressions across the board as it raises a body's sympathetic system responses to constantly be on edge.
Enter the primaries in the USA for the Democrats in 2020 and candidate Marianne Williamson. For the past 30 years this spiritual guru has taught from The Course in Miracles in her talks and writings.
Williamson moves to tackle the renewed Shadow being, or nationalized saboteur/gremlin if you will, brought out of a teaching close to her heart. That is to do spirituality/religion well you must do politics. They are not exclusive silos, or topics to be avoided in polite company as conversational topics.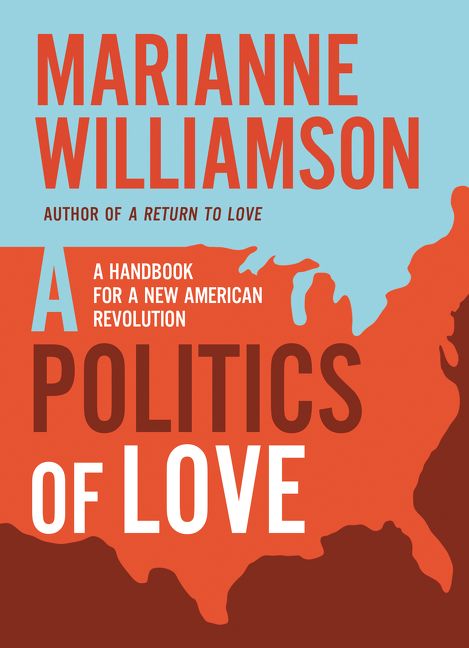 Hence her new book, Politics of Love (HarperOne, 2019), to shine a light in the dark. Why should one care and connect these two realms? It is not from fear, but but the most radical teaching- LOVE.   When you enter into living radical love, social justice, peace and politics become the norm of life. Even beyond that radical love will not let you remained sidelined or non-political or non-spiritual. In Corporate America, radical love turns back to the clock to a time when the shareholder and their profit was not the highest good for a corporation profit margins. But equitable pay and care for employees to flourish, and having buying power to grow the economy. The shift to the highest profit for the shareholder, is but one reason for the rise of the current populism from the working class, the vein of anger the faux outsider and current President, Donald Trump, was able to tap into (and there is examples in Canada, but I am keeping this reflection to the source material of Williamson's book).
LOVE- It forces you to look at history and realize the need for authentic and transparent restitution and reconciliation for those abused, enslaved and decimated by our nation building. So yes, it is a book that lays out a counter radicalization. One that can steam roll extremism, and hate by healing the core causes, the root that is fear and anger.
It is the radicalization of a life of love.